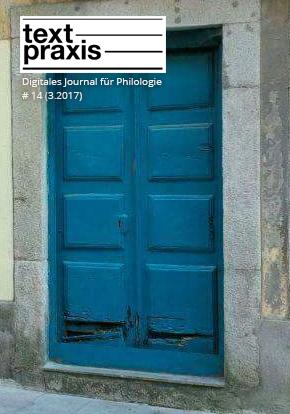 Nicole M. Mueller discusses the opportunities of digital(ized) literary studies by analyzing Japanese translations of Thomas Mann's works. Silja Wendt proposes how intermediality contributes to a performative character of the Sherlock series. In an interview with Cosima Mattner, Ted Underwood shares his experiences with employing digital methods in literary studies.
Theories of Literary Study
Praxeologische Notizen zu Motivsemantik und Metaphorik, basierend auf Topic Modeling
This working paper discusses the methodical and theoretical challenges of digital(ized) literature studies with regard to the comparative analysis of German-Japanese translations of Thomas Mann's novels. The Topic Modeling of parallelized translation corpora is introduced as an adequate approach to the research subject of world literature. To that effect, an algorithmic criticism of leitmotif structures and their translations provides us with a new perspective on the inner workings of narrative structure as well as on the process of understanding literature in itself.
The BBC TV series Sherlock can be considered a version of an often transmediated series of novels and short stories within the crime fiction genre, when applying Elleström's ideas of transmediation. This article proposes that the intermedial traveling of signs, media traits and multimodal texts from different sources beyond the ›original‹ source of the book contributes to a certain performative character of this series. While perceived as a new media product, in the case of Sherlock, it is difficult to define materiality and its impact in the process of semiosis. Therefore, this analysis proposes a reconsidered understanding of materiality and intermedial transmediation and explores the question of how materiality manifests itself in people's mental representation, finally considering how materiality relates to cognitive and context-related performance. Broadly, the common approaches to literature theory are questioned and steps towards new ideas, adjusted to popular culture and the digital media age, are discussed.
Literary Studies and Praxis
Ted Underwood on the impact of computational methods on literary studies. Interview held on July 14th 2016 at the University of Illinois, Urbana-Champaign. With an introduction by Cosima Mattner
What are digital humanities? And what is their influence on literary studies? Do they change the kind of questions being asked and answers being given within the discipline – and if so, how? What is the relation of probability predictions to individual reading processes of meaning construction? In this interview, Ted Underwood, a committed specialist in the field of digital literary studies, shares his experiences with employing digital methods in the study of literature. He discusses the rising impact of computer-based methods on the discipline and their relevance for developing new perspectives within it.