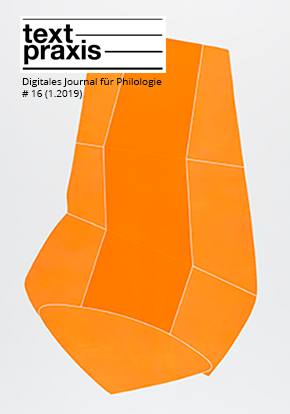 In this issue, Christina Glinik and Elmar Lenhart investigate writing scenes in Josef Winkler's Domra. Sandra Folie discusses new world literature through the lens of intersectionality, while Stefan Tomasek discusses the museal presentation of the Song of the Nibelungs. 
Theories of Literary Study
Josef Winklers »Domra« aus textgenetischer Perspektive
The vast extend of archived material from Josef Winkler's 1996 novel Domra gives researchers another opportunity to apply the methods of the critique génétique. This paper focuses on two passages of the novel in its eight handwritten and typographic versions. These versions are analysed by means of close reading. We intend to show that an increase of fictionalisation of the autobiographical substrate can be identified in Josef Winkler's creative writing process, especially in writing scenes (Schreib-Szenen). The paper takes on the perspective of autobiographical research but is also located at the intersection between writing process research and writing scene research.
An Intersectional Perspective on »New World Literature«
In recent years, feminist, queer, and postcolonial literary critics and activists have demonstrated that neither the literary market nor literary studies are free of class, ethnic, gender, national, racial, and other prejudices. With a view to the literary market, this article will identify so-called »inner and outer gatekeepers« to explore to what extent Euro- and Androcentrism are still present in current world literature discourses. Against the backdrop of White men's dominance in the field of »old« world literature, it will examine whether »new« world literature is by implication a »Black female affair«.
Literary Studies and Praxis
Kriemhild und das Nibelungenmuseum in Worms
Taking the example of the Museum for the Song of the Nibelungs in Worms as a case study, Stefan Tomasek examines the museum presentation of the Song of the Nibelungs. The article is questioning the assumption that popular mediators are more effective in transferring knowledge about Middle High texts than the actual text reading can be. This can, in part, be exampled by the fact that in the Wormser museum the Nibelungenlied is presented as a text in a three-dimensional space. Relevant are thus the spatial arrangement of exhibits, the didactic control of the recipients and the transmission of textual knowledge. The article discussed in detail which parts of the Song of the Nibelungs are (re-)told in the museum and how the relation of the newly narrated text to the medieval textual tradition is shaped; moreover, it shows how and on which levels of mediation the (new) text is presented in the museum.