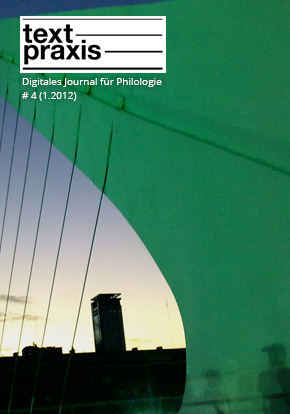 This issue continues to emphasize the principle of dialogue in Textpraxis and thus publishes a response article by Johanne Mohs regarding Beatrice Nickels investigation about poetry objects in urban areas. In the article sections, Stefan Tetzlaff is concerned with the function of chance in Daniel Kehlmann's prose, Erik Schilling located the novel Die letzte Welt by Christoph Ransmayr in the debate about historical and postmodern narratives and Jürgen Gunia reflects the concept of competence in the humanities.
Grundgedanken der Poetik Daniel Kehlmanns
The motif ›coincidence‹ shall be emphasized as central technique in Daniel Kehlmann's prose and be described in its function to prove the boundaries of realistic narration and to approach a concept of ›magic realism‹.
Theories of Literary Study
Metamorphosen der Postmoderne in Christoph Ransmayrs »Die letzte Welt«
In his article on Christoph Ransmayr's Die letzte Welt, Erik Schilling deals with the possibilities of the historical novel for postmodern writing. On the basis of Michel Foucault's concept of heterotopia, the author investigates the transition from the center to the periphery and points out the self-reflexive structures of the novel by analyzing space and time.
Literary Studies and Praxis
Versuch einer genealogischen Ideologiekritik
In his article Jürgen Gunia looks at the term competence, which currently becomes more and more important not only in the humanities. Thereby it is less about an argument against competence than rather about a critical reflection of the rhetoric of competence, which  operates with  terms borrowed from military language. Gunia therefore argues for a de-dramatization of the emphatic term of competence.