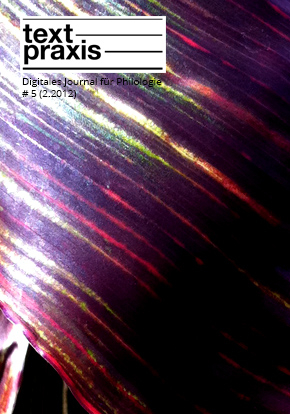 We are making progress! This could be the motto of this fifth issue of Textpraxis, in which three new contributions from the field of contemporary literature enter entirely new themes and theories. Dirk Schulz (Cologne) dedicates his article to issues of gender and queer theory, and therefore presents the first article from Anglophone Studies in Textpraxis. Minu Hedayati-Aliabadi (Dortmund) investigates the hitherto less known lyrical-artistic collage work of Nobel laureate Herta Müller. In the Literature and Practice section, Maria Aparecida Barbosa (Santa Catarina) conducts an interview with writer and theater-maker Theresia Walser. She thereby uses the opportunity to try out different text formats in Textpraxis for the first time.
Die heteronormative Ordnung des queeren Diskurses
Due to the constant overwriting and reading over of intentionally ambivalent text arrangements, for some time now the academic as well as the popular usage of the term ›queer‹ is no longer understood as distinguished from the often analogically used terms gay/lesbian or homosexual. Exemplary for this hetero standardization is the dealing with Oscar Wilde's The Picture of Dorian Gray and Virginia Woolf's Mrs. Dalloway. Their genuinely queer refusals of a definitive and categorized way of thinking and writing so far do not find an adequate correspondence neither in the critical reception nor in their adaptations of the millennium. On the contrary, the insistence on ambiguity as principle of survival of both narrations is understood as ›pose‹ or ›camouflage tactic‹. Hereby, autobiographical references of the authors predominate. In this way, the subversive narrative strategies of both texts can be transferred to a heteronormative regularity.
Theories of Literary Study
Transmediale Inszenierung von Schrift und Bild in Herta Müllers Collagen
The article deals with Herta Müller's image-text-collages, which are hardly noticed in research literature and general public so far. Concretely, after a short introduction in the character of Herta Müller's work and a medial and structural localization of the image-text-collages follow an analysis of the text's lyrical and formal design as well as of the medial staging of textual elements and image-text-correlations through the example of the image-text-collages in the newest volume »Die blassen Herren mit den Mokkatassen« (2005). The strategy of strangeness, which can be seen in Herta Müller's prosaic works, gains a crisis and medial component in the image-text-collages.
Literary Studies and Praxis
Mit einer Einführung von Karina Schuller
In her interview, the literary scholar Maria Aparecida Barbosa speaks with the dramatist Theresia Walser. Based on the example of the play King Kongs Töchter (1998), which deals with everyday life in a nursing home in a bizarre way, a variety of subjects are addressed. They talk about theatre's self-reflexivity, Walser's understanding of poetic language and realism as well as the creative writing process in general. The interview is complemented by an introduction by Karina Schuller.