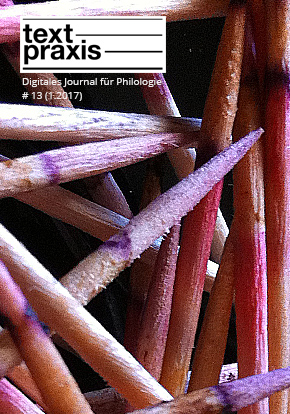 Textpraxis # 13
1.2017
Jennifer Clare tests a synthesis of Stephen Greenblatt and Rüdiger Campe's text-context approaches to literature in her analysis of Bernward Vesper's Die Reise, Vanessa Hannesschläger investigates the concrete poetry movement as a 'European project', and Hannes Höfer deals with intermediality in literary representations of jazz music. 
Editorial
In this thirteenth issue of Textpraxis. Digital Journal for Philology, Hannes Höfer investigates the representation of jazz music in the novel Jazz (1927) by Hans Janowitz, Tauben im Gras (1951) by Wolfgang Koeppen, and Thomas Meinecke's Musik (2004), and in doing so he questions the basic assumptions for a theory of musical intermediality. Vanessa Hanneschläger asserts the thesis that the concrete poetry movement represented a 'European project', whereby she demonstrates poetological and political dimensions of concrete poetry through an analysis of Ernst Jandl as a case study. In her article regarding Bernward Vesper's Die Reise (1977), Jennifer Clare productively combines the methodological approaches of Stephan Greenblatt's text-context understanding of cultural poetics with Rüdiger Campe's concept of the Schreibszene (the scene of writing) as means for analyzing the writing process. Additionally, this current issue continues the debate surrounding systems theory in literary theory, which has been an ongoing discussion since the very first issue of Textpraxis. The response article by Karima Lanius deals with satire as a form of literary communication.
Many thanks go to our external reviewers for editing and providing critiques to our authors. Heidrun Führer from Lund, Thomas Eder from Vienna, and Moritz Baßler from Münster all did an excellent job advising our article contributors with constructive criticism and feedback. Many thanks for your time and efforts!
With this issue, we also sadly part ways with our long-time co-editor and one the founding members of Textpraxis, Nina Gawe. Nina was an invaluable contributor to our editorial team on many fronts, and we would especially like to thank her for work shaping the newsletters and editorials over the course of several issues. We wish Nina Gawe all the best and much success in all of her future endeavors!
At the same time, we would like to welcome three new members to the Textpraxis editorial team: Jayana Jain from the Graduate School Practices of Literature, as well as Sona Arasteh-Roodsary and Thomas Kater from the Graduate College Literarische Form, who have all been hard at work in the editorial board since this issue.
Lastly, we would like to wish our audience a pleasant and stimulating read. As always, we cordially invite you to respond to articles and engage in debates, either through our site's comment function or via the submission of longer response articles. We would love to hear your thoughts!
Your Textpraxis Editorial Team
Imprint
Textpraxis # 13 (1.2017) has been published on May 1 2017. 
Editorial Team:
Sona Arasteh-Roodsary 
Ina Batzke
Seth Berk
Birte Fritsch
Irene Husser
Jayana Jain
Thomas Kater
Kerstin Mertenskötter
Janneke Schoene
Martin Stobbe
Levke Teßmann
Kerstin Wilhelms
Elisabeth Zimmermann
Reviewers:
Prof. Dr. Moritz Baßler (Münster)
Univ.-Ass. Mag. Dr. Thomas Eder (Wien)
Dr. Heidrun Führer (Lund)
Cover: Seth Berk
ISSN 2191-8236